Alterra 600
Built for All-Out Adventure
If you want an ATV with more power, control, balance, and comfort, look no further than the Alterra 600. The ultimate full-size ATV for the jack-of-all-trades looking to explore more, the Alterra 600 is built with a 600cc engine for an elevated ride. With 25 or 26-inch tires and electronic power steering, this ATV will support higher ground clearance and enhanced control. We know you want an ATV that can handle bigger challenges, and with the Alterra 600, you're in for your best rides yet.
Watch Video
$9,199
Starting USD*
*Plus destination charge and set-up.
Logistics surcharge of $250 will apply.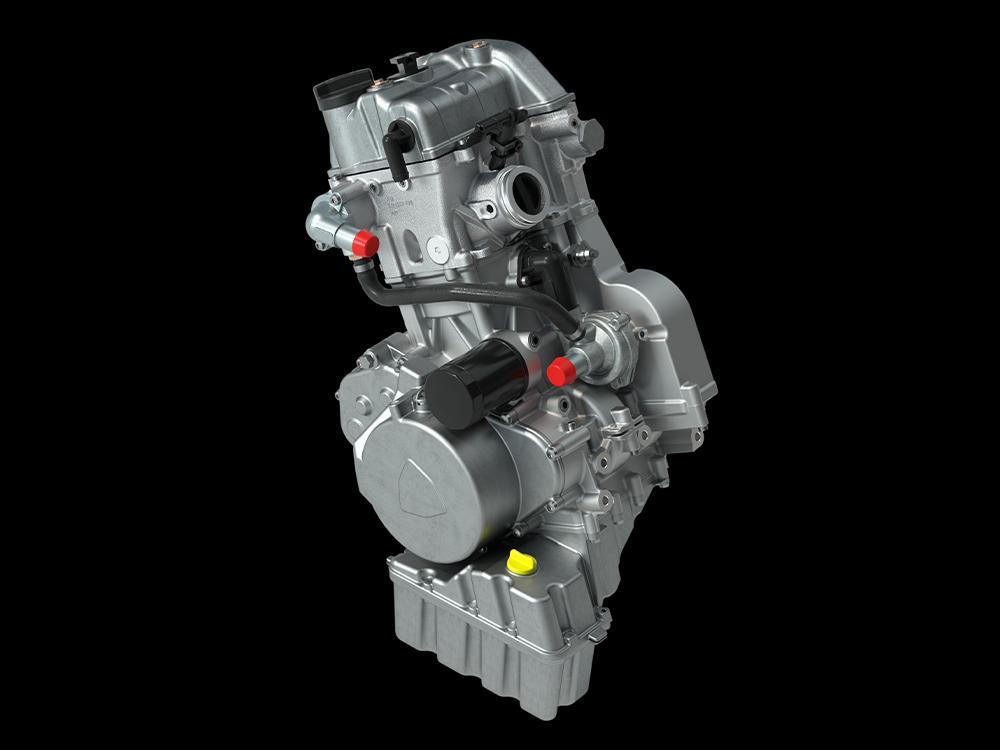 POWER LIKE NEVER BEFORE
600CC, 45HP ENGINE
With a powerful 600 class EFI engine built in St. Cloud, MN, the Alterra 600 is built to fuel your sense of adventure. This high-output power will let you explore tougher terrains and achieve more on your ATV.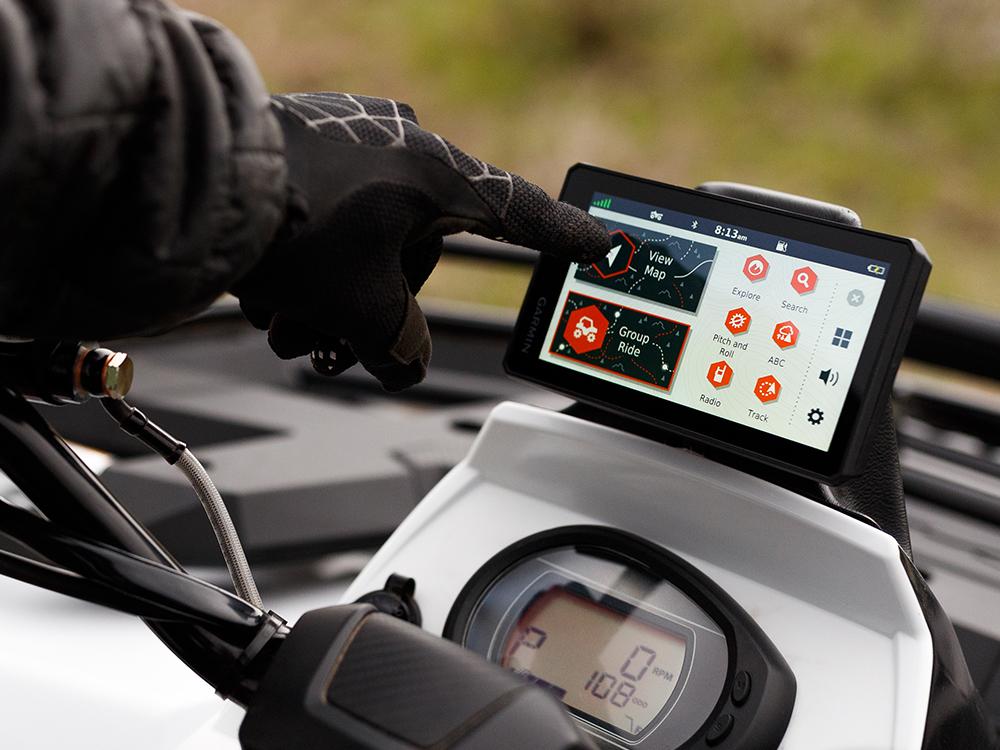 RIDE WITH FRIENDS
DASH-MOUNTED GARMIN TREAD GPS
Enhance your ride with a dash-mounted Garmin Tread Off Road GPS. This accessory is an absolute necessity for any group ride, letting you view your routes, music and group members' locations easily. While this GPS is sold separately, it will take your ride to the next level.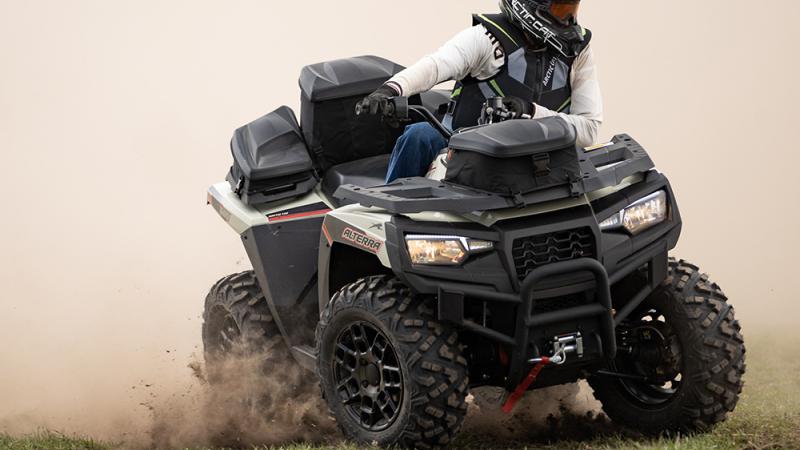 EFFORTLESS HANDLING
ENHANCED SUSPENSION SYSTEM
The enhanced suspension on the Alterra 600 offers a smoother ride and easier steering. You'll feel the difference offered by larger, upgraded shocks and springs, as well as power steering, and you'll never want to go back.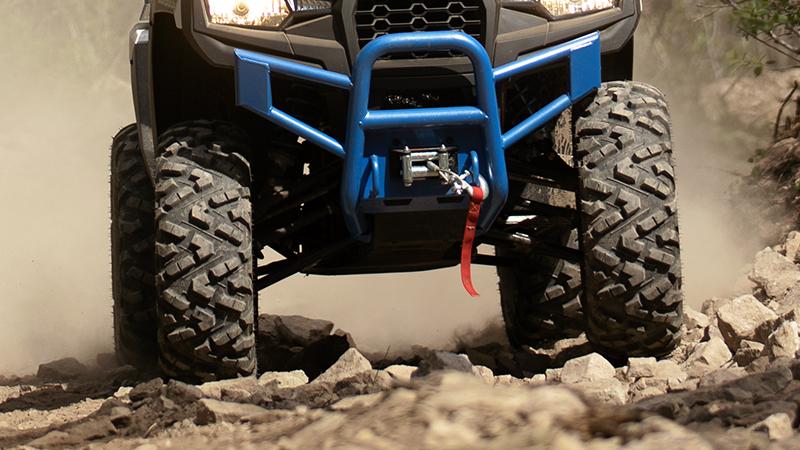 CLEAR MORE OBSTACLES
UP TO 12.25-INCH GROUND CLEARANCE
If you're looking for the confidence to ride over obstacles, the Alterra 600 has you covered. With 11.5-inches of ground clearance on the Alterra 600 EPS and XT, and an enhanced 12.25-inch ground clearance on the Alterra 600 LTD and the Alterra 600 SE, you'll be able to clear more than just bumps in the trail.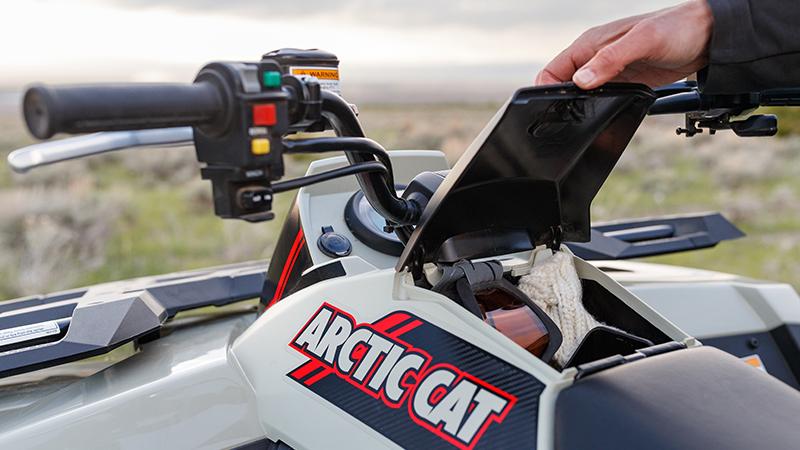 EASILY ACCESS GEAR
DRIVER ACCESSIBLE STORAGE
With an easy-to-access and spacious storage compartment that you can reach from the rider's seat, you'll have room for everything you need on your journey.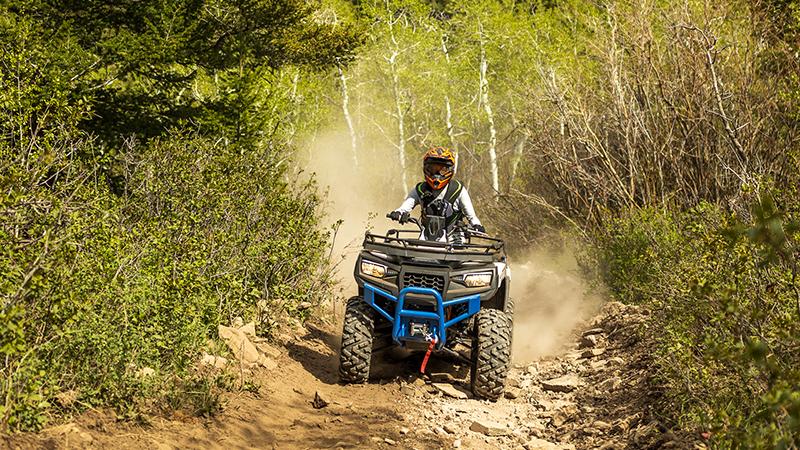 ENHANCED TRACTION
SELECTABLE FRONT LOCKING DIFFERENTIAL
With the all-new selectable front locking differential on the Alterra 600 LTD and Alterra 600 SE, you'll be more in control of how you ride. By simultaneously putting maximum torque to all 4 wheels, your vehicle's traction will be optimized, letting you handle harder terrains with ease.
COMFORT FOR ALL RIDERS
LARGE FOOTWELLS
No matter your stature, you'll find a comfortable ride on the Alterra 600. The large footwells offer extra space for a variety of shoe sizes, and the ergonomic control placement is designed to fit any rider.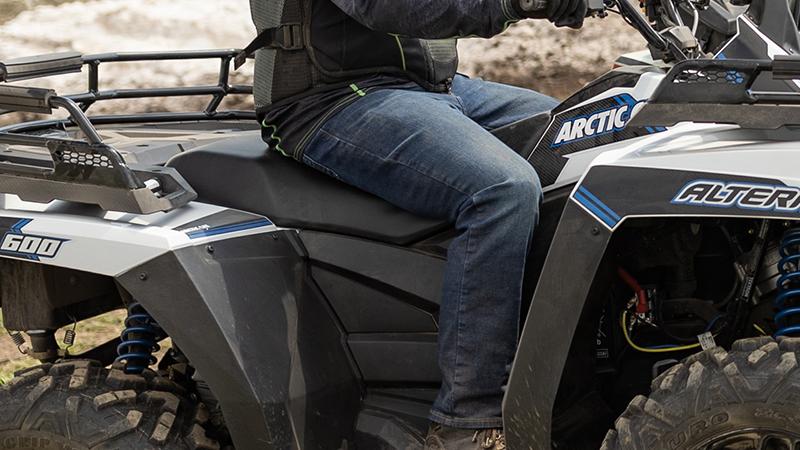 KEEP COOL
OPTIMIZED ENGINE ORIENTATION
With the one-of-a-kind engine orientation and exhaust routing, you won't feel all the heat from your ATV while riding. Instead of focusing on the heat, your attention can stay fixed on your epic ride.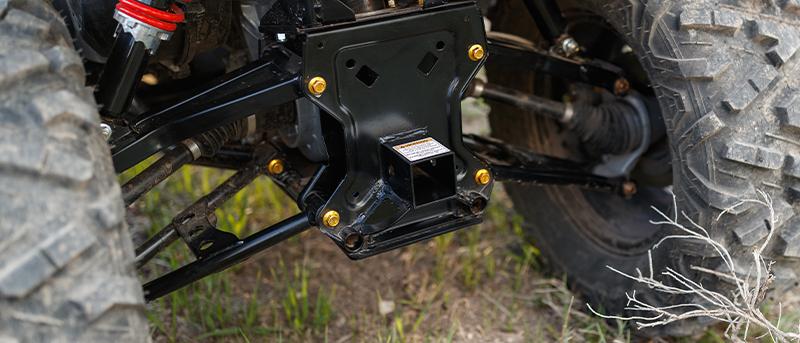 FOR WORK OR PLAY
1,050-LB TOWING CAPACITY
The Alterra 600 is equipped for hard work as well as a great ride. With a front tow hook and 2-inch rear receiver, your ATV can pull over half a ton.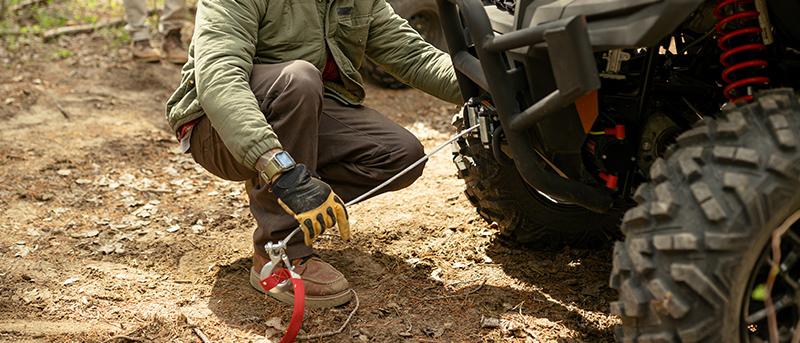 GET OUT OF TOUGH SITUATIONS
3,500-LB WARN WINCH
With the Alterra 600's 3,500-LB WARN Winch, you can get yourself or your friends unstuck with ease. Standard on the Alterra 600 LTD and Alterra 600 SE, or available to add onto the Alterra 600 EPS and Alterra 600 XT, you'll be prepared for the unexpected.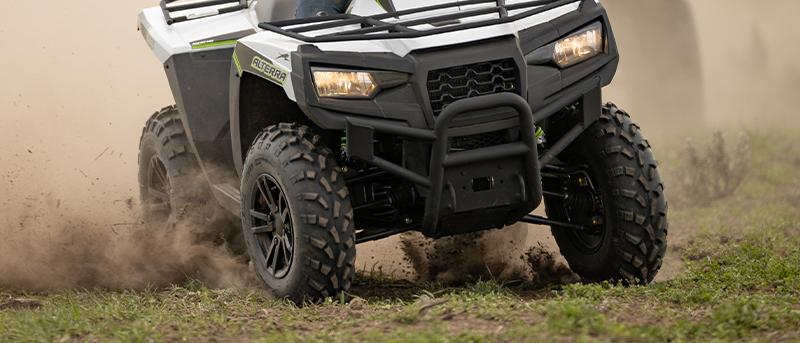 TAKE COMMAND OF THE TRAIL
ELECTRONIC POWER STEERING
With standard electronic power steering (EPS) on every Alterra 600, you'll take your ride to the next level. Enhanced control, easier turns, and intuitive handling will all upgrade your ride more than you could imagine.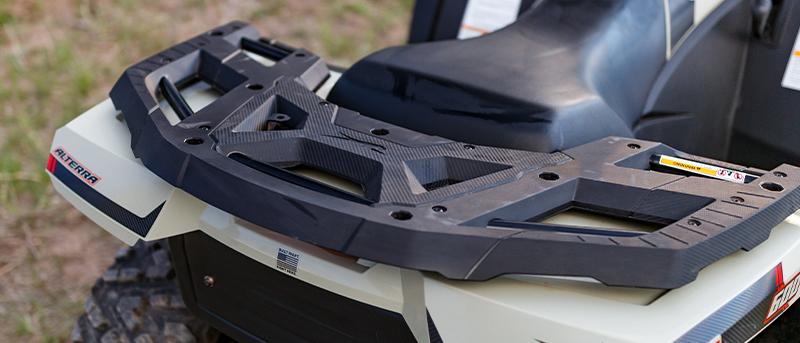 STORE MORE
FRONT AND REAR RACKS
Heavy duty doesn't even begin to cover it. With both front and rear racks, you can carry over 300 lbs of strapped down cargo with you wherever you go. Never leave your cargo behind again.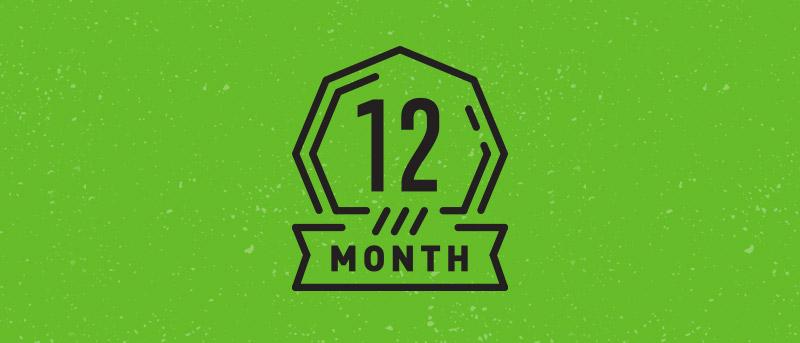 EXTRA PROTECTION
12 MONTH WARRANTY
With a year of rock-solid coverage protecting your ATV, you can have peace of mind on and off the trail.
Alterra 600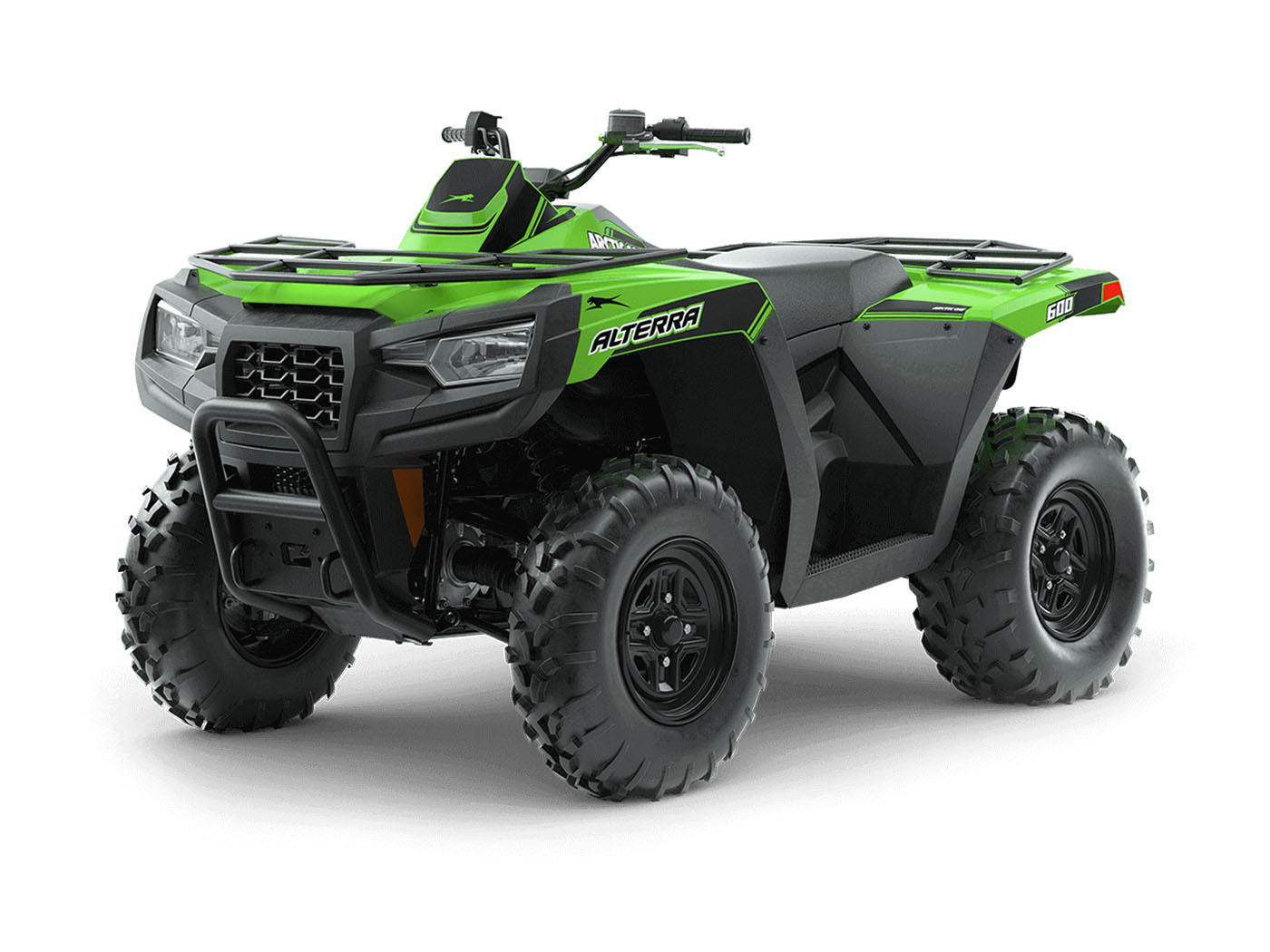 Vehicle specifications are subject to change.
WARNING: Arctic Cat® vehicles can be hazardous to operate. For your safety, all riders should always wear a seat belt (Side-by-Sides), helmet, eye protection, and protective clothing. Riding and alcohol/drugs don't mix. Arctic Cat recommends that all operators take a safety training course. For safety and training information, please see your dealer or call 1-800-887-2887 (ATVs) or visit www.ROHVA.org (Side-by-Sides). Arctic Cat vehicles are for operators age 16 years and older with a valid driver's license, except the Alterra 90, which is intended for operators 10 years of age and older. ©2020 Textron Specialized Vehicles Inc. All rights reserved.